Well, just about a week into this endeavor I sent my first gift.  I gave a little hint last week on IG, stating that I'd share the story once the recipient opened it.
One of my friends (let's call her Ms. K) in my circle of birth professionals has an awesome bathroom. And I mean awesome – double shower with rainfall head, stark white double vanity, beautifully grey walls, white trim, modern soaker tub…. just stunning. I want to pick up this bathroom and move it into my home.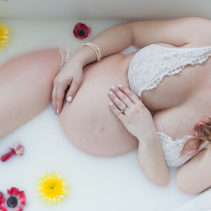 I tend to inquire at any place I find beautiful if there might be an opportunity for me to photograph, and this bathroom – I was itching to work in it. Ms. K was very excited to allow me this opportunity when a client approached me wanting to do a milk bath as part of her maternity session.
I was shopping last week with a friend and browsed through Anthropologie. I look and oogle at their offerings (typically don't buy anything) and spied this beautiful set of hand painted measuring cups. I was prompted by the Holy Spirit to purchase these cups for Ms. K, so I did.
This is what I received after a very stressful afternoon in which I exhibited Really Big Feelings, which made my heart really confused. How can I be so red-hot mad and jumping for joy at the same time? Yet, I know believe, the Holy Spirit was working through her to give me joy at exactly the right time. "Melissa! <3 Thank you for the incredibly thoughtful gift. You are so insightful. I really struggled to give up those measuring cups at the party, now here they are! Back in my home. Thank you so much. It was fun to have my tub be of good use."
See, Ms. K purchased a set of them for herself earlier this year. She wanted to participate in the white elephant gift exchange and she selflessly gave these as her gift. They were easily the most popular gift to steal, right along side the toilet golf putting green.
Interested in more of my story? Follow me on Instagram at MLPortraits. I'm using the hashtag #40in40MLP to record my list as well. I'm also still looking for ideas!
What as the Holy Spirit prompted you to do recently? Tell me below!